HEIGHT performance-STEIGER ® SPECIAL FEATURES
The standard build working basket cleanout, tool tray, proximity sensor under the basket, enough anchor points (eyelets) for safety belts or the adjustable positioning possibility of the control panel are extremely functional in everyday use of a STEIGER ®. Many other practical extras are optionally offered which are specially designed for HEIGHT performance-devices and 100% tailored to diverse application fields, for example the round camera basket, ambient lighting or Hybrid power.
You can find all information in the brochure "Special Features".
Here some examples: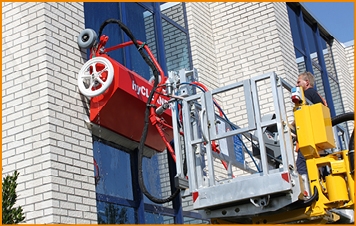 Facade Cleaning Equipment
hyCLEANER ® red EVO I*
The hyCLEANER red EVO I attachment gently cleans every type of facade surface imaginable. It is fast, efficient, and extremely cost-effective.
www.hycleaner.eu
*sold and distributed by TG hyLIFT GmbH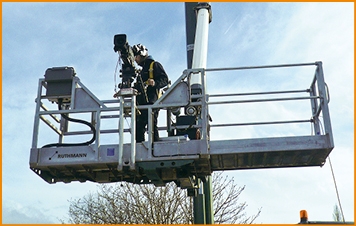 Camera Bracket
The practical camera bracket facilitates steady and smooth filming from high up. The brackets can accommodate cameras that weigh up to 100 kg.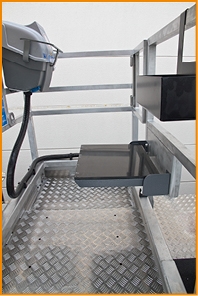 Folding Seat
Constant standing on long work assignments is very strenuous, leads to poor concentration and increases the risk of accidents. To avoid this, the folding seat – for operator and accompanying personnel – offers a simple and straightforward way to relax. The seat is installed in a particularly space-saving way because of the innovative folding mechanism.