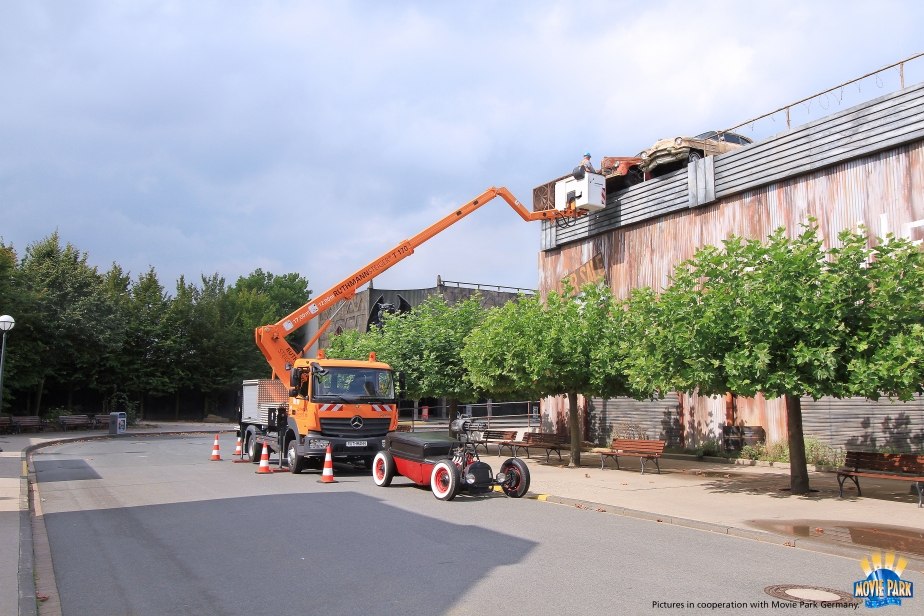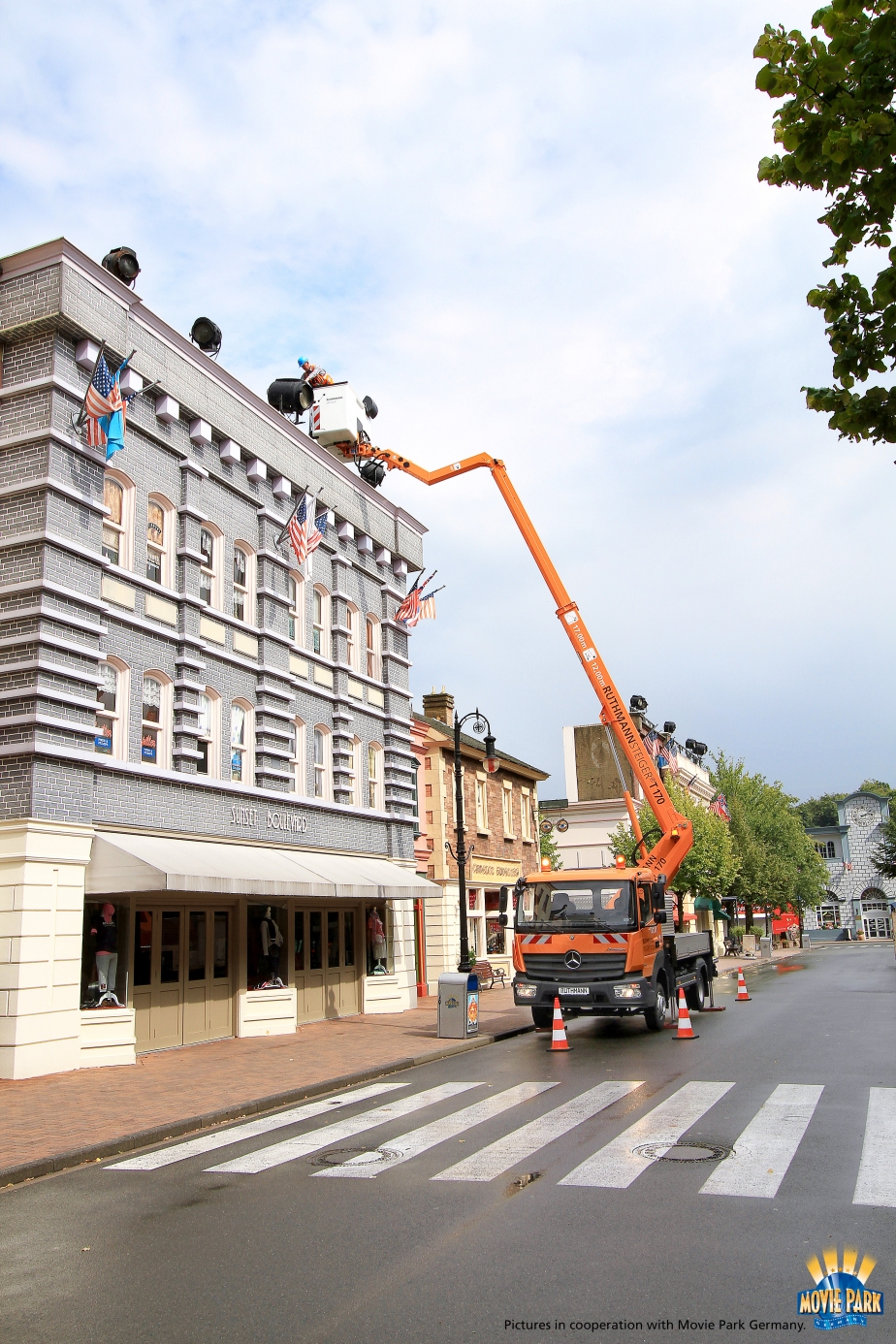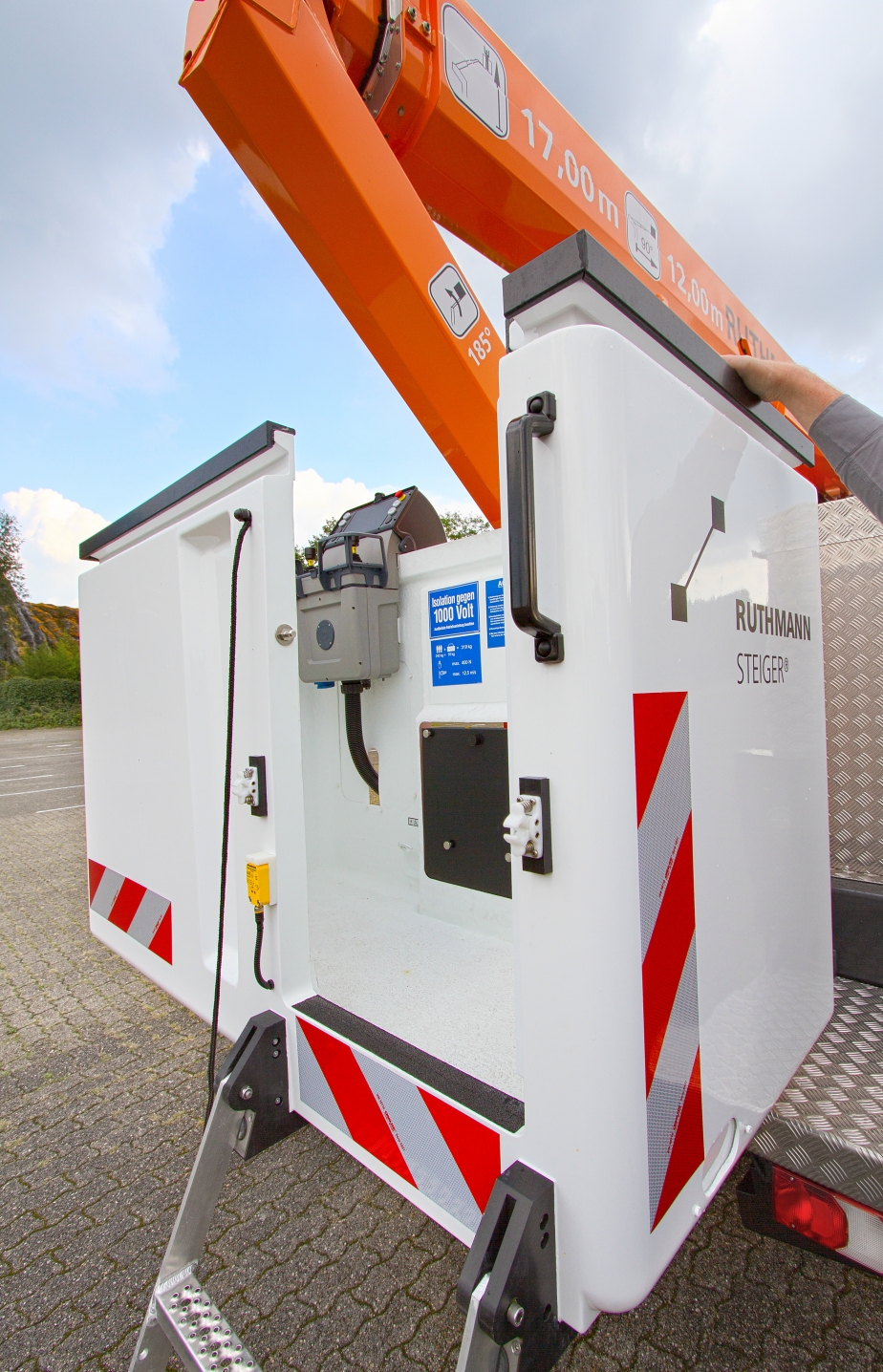 Compact category on a 7.49 t chassis.
Incredible adaptability!
17.00 metre working height
12.00 metre lateral outreach at 100 kg cage load
max. performance on 7.49 t chassis (many other chassis variants are possible)
2-section telescoping boom system
2 x 85° basket rotation device
185° jib (RÜSSEL ®) swivelling range
Compact vehicle length of only 7.48 metres
350 kg working cage capacity
Adjustable, state-of-the-art RUTHMANN COCKPIT
and many other innovative features
STEIGER® T 170
Permissible inclination
5°
Swivelling angle of the jib / RÜSSEL®
185°
Permissible total weight
7.490 kg
Work basket size
1,70 x 0,86 m
Work basket load capacity
350 kg
Wheelbase carrier chassis
3,46 m
Municipalities, energy providers, infrastructure development companies, and also equipment rental companies need truck-mounted aerial work platforms that are as versatile as possible. Our new STEIGER ® T 170, mounted on a 7.49 t chassis, is simply ideal.
With a total vehicle length of 7.48 m, height of 3.46 m and 3.6 m wheelbase, the T 170 is extremely compact in size. It features a working height of 17 m, lateral outreach of 12 m, and a circular range of motion (100 kg basket load). These features, coupled with the 185° movable jib (RÜSSEL ®), provide maximum versatility and agility at the jobsite.
The impressive 600 kg load capacity of this professional work platform is an added advantage. A wide range of optional equipment – box bodies for necessary tools and materials, cab covers, LED marker lights, aluminum platform gates, work basket guard rails, etc. – is available without exceeding the gross vehicle weight rating.
The four hydraulic vertical support cylinders – attached directly to the base frame of the STEIGER ®– provide the necessary stability. For every assignment, the work platform is stabilized within the contours of the vehicle. The supports can either be extended/retracted at the same time or individually.  
General principle: If there is enough space for the truck, the STEIGER ® will be able to carry out its assignment. This type of support mechanism is ideal when working in heavy traffic. Tasks include street light and transformer maintenance and tree-cutting projects. The automatic set-up/retraction mechanism and 5° permissible inclination are also standard features on this STEIGER ® model.
The new work basket on the T 170 is an excellent place to work. In addition to the full 350 kg load capacity, it also comes with an interchangeable basket system. Depending on the assignment, operators can use the standard aluminium (1.7 m x 0.86 m) basket or other optional work baskets. These include the extra wide (2.1 m x 0.86 m) work basket, the narrow tree cutting basket, or the synthetic basket. The insulated synthetic basket and standard "boom to chassis" insulation allow assignments to be carried out on live (up to 1000V) power lines.
The turret, 2-section telescoping boom system, and jib (RÜSSEL ®) on the T 170 are made of ultra-high strength, fine-grained steel. Compared to other models in the T Series, the jib (RÜSSEL ®) and work basket console have been optimized to suit the specific needs of power utility companies, municipalities, and craftsmen. The new and ultra-modern control panel in the work basket – known as the "Cockpit" – further enhances safety and facilitates ergonomic, fatigue-free handling.  
In addition, the T 170 is EURO 6 compatible and can be mounted onto a great variety of different chassis/models including MAN, Mercedes-Benz, Volvo, and DAF.
Contact us by phone, fax, or email to learn more about the performance capabilities and advantages of our time-tested STEIGER ® products. We look forward to hearing from you.