DRS (Dynamic Reach System)
Maximizes the STEIGER® performance
The DRS increases the working range, increases reach capacity, and increases the range of application possibilities. This results in a potentially higher utilization rate, increased revenue, and a higher return on investment (ROI). Ultimately, it also leads to higher profits! Our DRS with real-time, on-board calculations, makes it all possible.
The function of the DRS can be described as follows: The performance capacity – based on the individual assignment – is calculated by the DRS in real time and shared with the control technology. Each additional "cm" of outrigger height and each reduced "kg" of basket load – and less dynamic boom movement – has a positive impact on the available performance capabilities. With the DRS, motionless set-up and swivel-angle limitations are a thing of the past.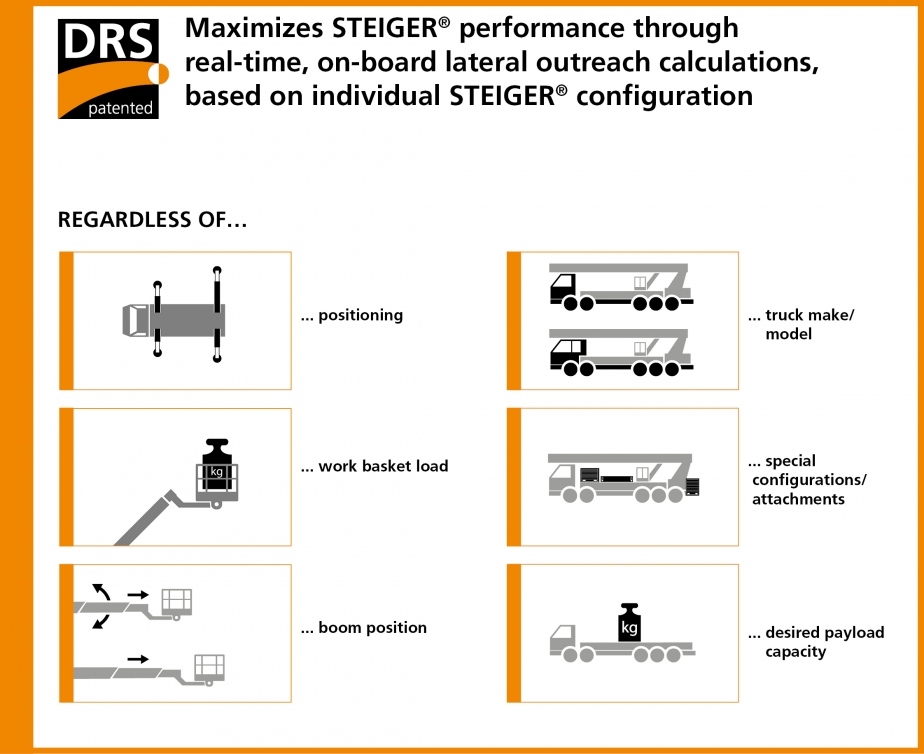 Another added benefit is that with the DRS, customers can choose the truck type, special configurations/attachments, and payload capacity that best suits their own individual needs. For example, customers can order trucks with an additional axle, asking  to refrain from installing ballast weight in order to obtain maximum payload capacity. The parameter settings of the DRS are adjusted to match the required vehicle-body-configuration. The DRS allocates maximum possible performance parameters for every individual STEIGER® application.
All in all, DRS offers enormous additional benefits that are unmatched in the truck mounted platform industry. This great performance data is easy to see in the 3D model shown here. The red area represents the performance data of a competitor product, which is already surpassed by the T 750 HF without DRS (green area). Then finally the T 750 HF with DRS surpasses both performance areas by far, as shown by the orange area.
FOR RUTHMANN highflex-STEIGER®
All the models in the Highflex range (T 510 HF, T 570 HF,T 650 HF, T 750 HF) can be retrofitted with the  Dynamic Reach System. If you already have a Highflex STEIGER® in your fleet then you needn't go without the added range and optional assistance systems either.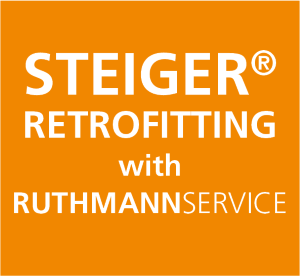 OPTIONAL EXTRAS
In addition to the "basic reach-enhancement package" available for this STEIGER® model, RUTHMANN also offers 3 optional assistance systems: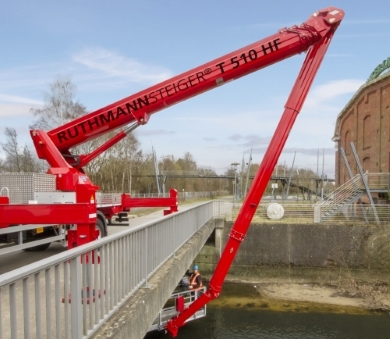 ASSISTANCE SYSTEM SUPPORT LOAD
Work at 50 % load capacity
Each outrigger can be pre-adjusted individually – 6 levels available: 50%, 60%, 70%, 80%, 90%, and 100% of the maximum load capacity.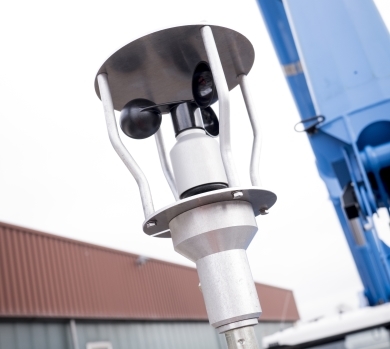 ASSISTANCE SYSTEM WIND
Bei Windstärke 8 arbeiten
Before work commences, simply adjust the wind speed. The DRS then adjusts the possible range taking into account maximum platform stability.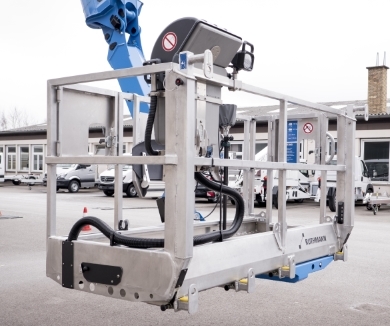 ASSISTENCE SYSTEM ADDED BASKET LOAD
Working with 600 kg in the basket
Simply adjust the desired basket load limit.
3 levels available: deactivated, 320 kg or 600 kg